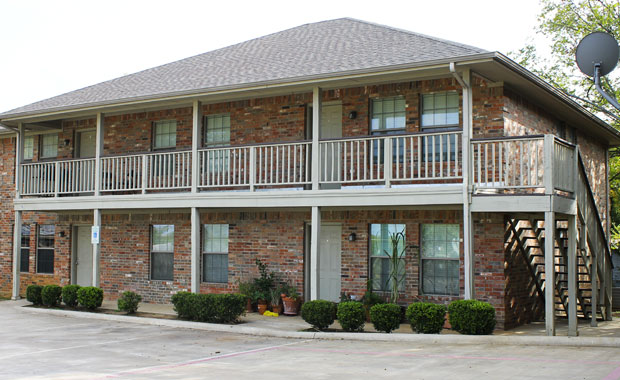 Bitton Street Apartments located at:
115 & 119 W. Britton Street
Krum, TX
Amenities
2 bedroom, 1 bathroom units
Frost free refrigerator
Stove
Dishwasher
Ceiling fans
Washer/dryer hookup
Mini blinds
Breakfast bar
About Britton Street Apartments
If you're looking for a comfortable place to call home in the lovely rural town of Krum, look no further than Britton Street Apartments. These affordable 2 bedroom/1 bathroom apartments are located in a quiet residential area just off of the intersection of East McCart Street and South 1st Street – the two main roads in Krum. Besides being conveniently located, these apartments feature all the amenities you would expect in an expertly-managed apartment complex that's the perfect place to call home.
Apartment Amenities
These Krum Apartments are 2 bedroom/ 1 bathroom units – perfect for singles, roommates, retirees, or small families just starting out. Each apartment features a great layout that allows you to make the best possible use of the space available to you.
All of these apartments come with a completely outfitted kitchen, which includes a stove, frost-free refrigerator, and even a dishwasher. Each unit also includes a breakfast bar, which makes for a more open look and feel, and allows you to have extra seating when you need it.
Besides this, all of our Krum Apartments include a washer/dryer hookup, so you can easily install your own washer and dryer to do your laundry in the comfort of your own home. Each unit also includes mini blinds for your convenience and privacy, as well as ceiling fans for more efficient heating and cooling.
What's Nearby?
Britton Street Apartments are located nearby to many of the Krum area's main attractions, including restaurants, local stores, churches, schools, and more. Here's what you'll find nearby to your Krum Apartments:
Restaurants: The majority of the restaurants in Krum are situated along East McCart Street. Options include both fast food and sit-down restaurants. Some of the available dining options include Bobcat Planet Pizza, Robert's Banquet Center and Restaurant, Miguelito's Mexican Restaurant, Golden Chick, Subway, Pizza Hut, Outlaw Burgers, MAD Mark's Pizza, and Dumesnils Grill and Smokehouse
Stores: While you'll find shops and stores elsewhere, the main streets – McCart and 1st Street – contain most of the shopping options in Krum. Nearby to Britton Street Apartments, you'll find P. Williams Piano Restorations, Stiff Peaks Confections, Ms. Carolyn's Attic, Flower Shop LLC, Outback Market, The Backdoor Music and Guitar Parlor, Krum Feed and Seed, and the Satellite Shop.
Public Facilities: Krum is serviced by the Krum Independent School District, which is made up of five schools. The closest school to Britton Street Apartments is Hattie Dyer Elementary, though none of the system's schools is far from our location. Also nearby to these Krum Apartments, you'll find the Krum Public Library and the US Post Office for the town.
Churches: As with many small towns in Texas, Krum is populated by several local churches. Our Krum Apartments are just down the street from the Christian Center Assembly of God, but other local churches include Fifth Street Church of Christ, Krum Church of Christ, and Plainview Baptist Church.
A Wonderful Place to Call Home
At Britton Street Apartments, our goal is to ensure that you have all the comforts of home combined with all the conveniences of apartment living. Whether you're relocating to Krum to raise a family in a quiet rural location, to retire, or to pursue a new career, our Krum Apartments are a fabulous place to call home. Contact one of our helpful representatives today to learn more about our specific apartment options and our current availability.